International Service Project-Spain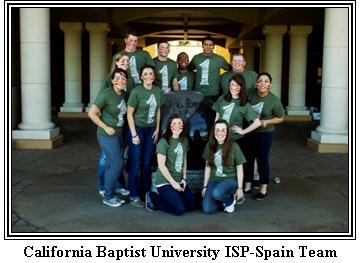 ---
Dear Family, Friends and Foreign Mission Supporters:
It's Justin and Mercedes Howard. We are both currently working and also continuing both of our graduate school endeavors at the same time. While we are surely busy, we are also leaders for our church's youth group in Colton, Ca where we are reaching out to the needs of high school students. Overall, our first year of marriage has been full of blessings and we are excited about what God is doing and will continue to do for His great glory!
This summer, however we are leading an International Service Project (ISP) team at CBU. We are thrilled about this opportunity! We, along with our team of 9 college students, will be journeying to Spain from June 6th - 26th. We will be going to different college campuses and hope to build relationships by having English conversations with students. We are excited to see how those conversations will open opportunities to share the gospel with these college students and believe that it will be a life changing experience for all of us. We are overjoyed to have this overseas opportunity together and to minister in this particular place in the world.
We would like to invite you to be our prayer partner. We need people to pray for us as we prepare, while we're serving, and after we return home. Please know that your prayer support would be a vital part of our ministry team and a valuable gift to us.
We are also praying that some of you will be able to support this project financially. Our team is raising a total of $34,000, and we would truly appreciate any size gift. In whatever way you are able to join in supporting our team, we would ask that you share your decision with us by Sunday, April 29, 2012. Please make your checks payable to California Baptist University. Please note: tax-deductible receipts cannot be provided for payments made for a specific student.
Thank you for supporting us in every endeavor! Please do not hesitate to contact us if you have any questions about this ministry opportunity. May God bless you abundantly!
In Christ,
[
back
]